Seniors looking for a quiet retirement may find the mountainous beauty of Wyoming appealing. The country's least-populated state is home to just 578,000 people and around 17% of residents are aged 65 and older. Although it's a sparsely populated state, seniors can still access quality health care from hospitals such as the Cheyenne Regional Medical Center.
Although it may not be the first state you think of when considering retirement, the 2022 Senior Living Report ranks it 12th in the nation. Wyoming also placed ninth for affordability, in part because there's no state income tax, and property and sales tax rates are lower than the national averages. Assisted living costs are also below the U.S. median at $4,169 per month. Wyoming's low crime rates and comfortable summer weather add to its attractiveness as a retirement destination.
This guide provides an overview of the cost of assisted living and other senior care options in the state. You can also find information about financial assistance for assisted living, rules and regulations for facilities and resources available to help seniors in Wyoming.
The Cost of Assisted Living in Wyoming
According to the Genworth 2021 Cost of Care Survey, assisted living in Wyoming costs an average of $4,169 per month. This is more affordable than the national average of $4,500. When compared to costs in neighboring states, Wyoming is in the middle of the range. Colorado has the highest average cost at $4,750, and the rate in Montana is also higher than what seniors pay in Wyoming at $4,450. Nebraska and Idaho are more affordable, with average statewide rates of $4,076 and $3,838, respectively. South Dakota is the least expensive of Wyoming's neighbors, with seniors there paying an average of $3,350 per month for assisted living.
$4169
Wyoming
$4500
The United States
$4450
Montana
$3838
Idaho
$4750
Colorado
$4076
Nebraska
$3350
South Dakota
Average assisted living costs in both of Wyoming's largest cities are higher than the statewide median. Seniors in Casper pay $4,844 per month, and in Cheyenne the average cost rises to $5,538. Cities in neighboring states offer more affordable assisted living options. In Billings, Montana, seniors pay $4,564, and in Fort Collins, Colorado, the average monthly cost is $4,000. The lowest rates are found in Rapid City, South Dakota, at $3,914 per month.
$4844
Casper
$5538
Cheyenne
$4564
Billings, MT
$4000
Fort Collins, CO
$3914
Rapid City, SD
There are other senior living options available in Wyoming that may suit your needs. Adult day health care is the most affordable at $1,733 per month. Other types of care are more expensive than assisted living. Home care and home health care services in the state average $5,529 per month. A semiprivate room in a nursing home costs $6,996, while private rooms average $7,635, making this the least affordable option available.
$4169
Assisted Living
$5529
Home Care
$5529
Home Health Care
$1733
Adult Day Health Care
$6996
Nursing Home Care (semiprivate)
$7635
Nursing Home Care (private)
Does Medicaid Cover Assisted Living in Wyoming?
Although Medicaid in Wyoming doesn't provide covered assisted living care directly, there's a waiver program that can help pay for services received in an assisted living facility. The program provides either assisted living or home-based care to help seniors cover the cost of care in the community. It's known as the Community Choices Home and Community Based Services Waiver, or CCW for short.
The CCW provides a range of services designed to delay a senior's admission to a nursing home and is only available for those who need a high level of care. It does allow participants to choose their own providers, although this isn't relevant for people who opt for assisted living. The waiver program has limited spots available, so some applicants may be put on a waiting list.
What Assisted Living Services Are Covered by Medicaid in Wyoming?
The CCW provides a range of long-term care services to people assessed as needing a nursing home level of care but who prefer to remain living in the community, whether at home or in an assisted living facility. This can include homemaker, personal care and medication management services. Wyoming Medicaid doesn't cover the cost of room and board, and it's also important to note that not all services are available in all areas.
Assisted Living Waiver Programs in Wyoming
Community Choices Home and Community Based Services Waiver
The CCW program serves people aged 65 and older and those aged between 19 and 64 who have a disability that meets the Social Security Administration's criteria. It provides services that help people remain living at home or in a community setting.
To be eligible for the CCW program, applicants must meet certain criteria relating to their residency, finances and functional abilities. In particular, applicants must require a nursing home level of care and meet the financial eligibility requirements for the Medicaid Special HCBS Waiver Group.
Participants are partnered with a case manager to determine their needs and arrange the necessary services. A core philosophy of the program is that participants should direct their own care. This means that you can choose whether to receive services in your home, the home of a relative or an assisted living facility. Your case manager can discuss your options and help you decide what's right for you.
Benefits of the program include personal care, meals, some skilled nursing services and personal emergency response systems. Assisted living is listed as a benefit. The department defines this as "personal care and supportive services in a residential setting and includes 24-hour on-site response to meet resident needs."
The application process for the CCW begins with a referral to the program. This is often made by the Client Services Unit when an individual applies for Medicaid, but can also be made by hospitals, seniors centers, family and friends. After being referred, you must complete applications for both Medicaid and the waiver before a determination can be made. If you wish to be referred to the program, contact the Benefits and Eligibility Specialist in your area or call the Long Term Care Eligibility Unit at (855) 203-2823.
How To Know If You're Eligible for Medicaid in Wyoming
Wyoming Medicaid is designed to help low-income people access health care coverage, so finances are one of the main eligibility criteria. The exact eligibility requirements depend on your circumstances and the program you're applying for.
A single person applying for the CCW must have an income less than $17,131 per year, with assets of less than $2,000. For married couples where both spouses are applying, the income limit is $23,169 and the asset limit is $3,000.
When only one spouse is applying, the income limit is also $23,169 per year, and the asset limit is $2,000 for the applicant. However, the non-applicant spouse can have assets worth up to $137,400. They may also be entitled to a Minimum Monthly Maintenance Needs Allowance as established by the Spousal Impoverishment Act. This allows the applicant to transfer some of their income to their non-applicant spouse to ensure their living expenses can be met.
Not all assets are counted when determining Medicaid eligibility. Personal belongings, a burial fund, life insurance policies and an automobile are generally excluded. If a non-applicant spouse remains living in the couple's, it's also exempt.
2022 Medicaid Income Limits for Seniors in Wyoming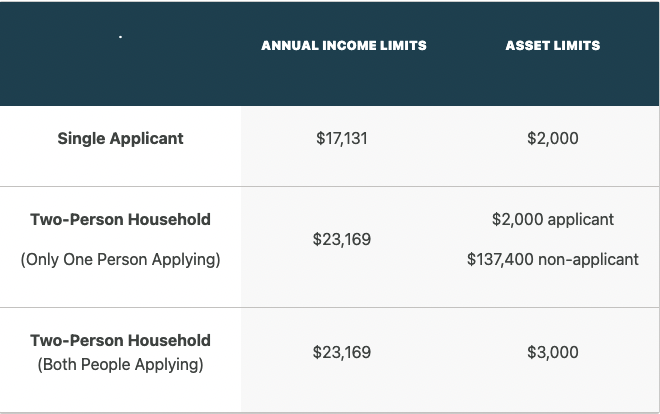 To qualify for the CCW program, you must also be:
A Wyoming resident
A U.S. citizen or lawful permanent resident who has lived in the United States for at least 5 years
Age 65 or older, blind or disabled
In need of a nursing home level of care
How To Apply for Medicaid in Wyoming
Seniors can apply for Medicaid via the online portal, by phone or by completing a paper application. Phone applications can be made by calling (855) 294-2127. Paper applications can be downloaded from the Department of Health website and returned to the customer service center in Cheyenne via fax, mail or in person.
After an application has been approved, participants complete an initial health assessment, which is a questionnaire about their needs and health. Older adults are often referred to the CCW after completing this questionnaire; however, you can also call the Community-Based Services Unit at (855) 203-2823 to request a referral.
Information You Will Need
The Department of Health will ask for documentation to process your application. Generally, applicants must provide proof of:
Identity
Age
Citizenship or immigration status
Social Security Number
Income
Health insurance policies
Assets
How to Get Help Applying for Medicaid
Wyoming has a number of resources that can help older adults apply for Medicaid. The Medicaid office has customer service staff who can answer general questions, and a specialized team that assists with long-term care queries. The department has also published a handbook for people applying for and participating in the program. Finally, there's a health insurance information program that can assist with Medicaid inquiries.

Does Medicare Cover Assisted Living in Wyoming?
The short answer is that no, Medicare does not cover the cost of assisted living in Wyoming. Assisted living facilities are considered to be a "residential setting" and not a "clinical setting," (think nursing homes). While Medicare doesn't cover the cost of care received in an assisted living community, it does still cover things like approved medications, doctor visits, medical equipment, etc., just like it would if you lived at home.
For more information about when Medicare can be used to pay for senior living in a nursing home, and for Medicare-related resources, see our guide to Nursing Homes in Wyoming.
Other Financial Assistance Options for Assisted Living in Wyoming
Seniors who are not eligible (due to location, financial situation, or other factors) for other types of financial assistance, do still have some options. See the table below for an overview of some of the most common ways to make Assisted Living affordable.

Free and Low-Cost Resources for Seniors in Wyoming
There are a variety of free and low-cost resources available to assist seniors in Wyoming. These services are provided by government and nonprofit agencies and can help older adults access benefits and find support.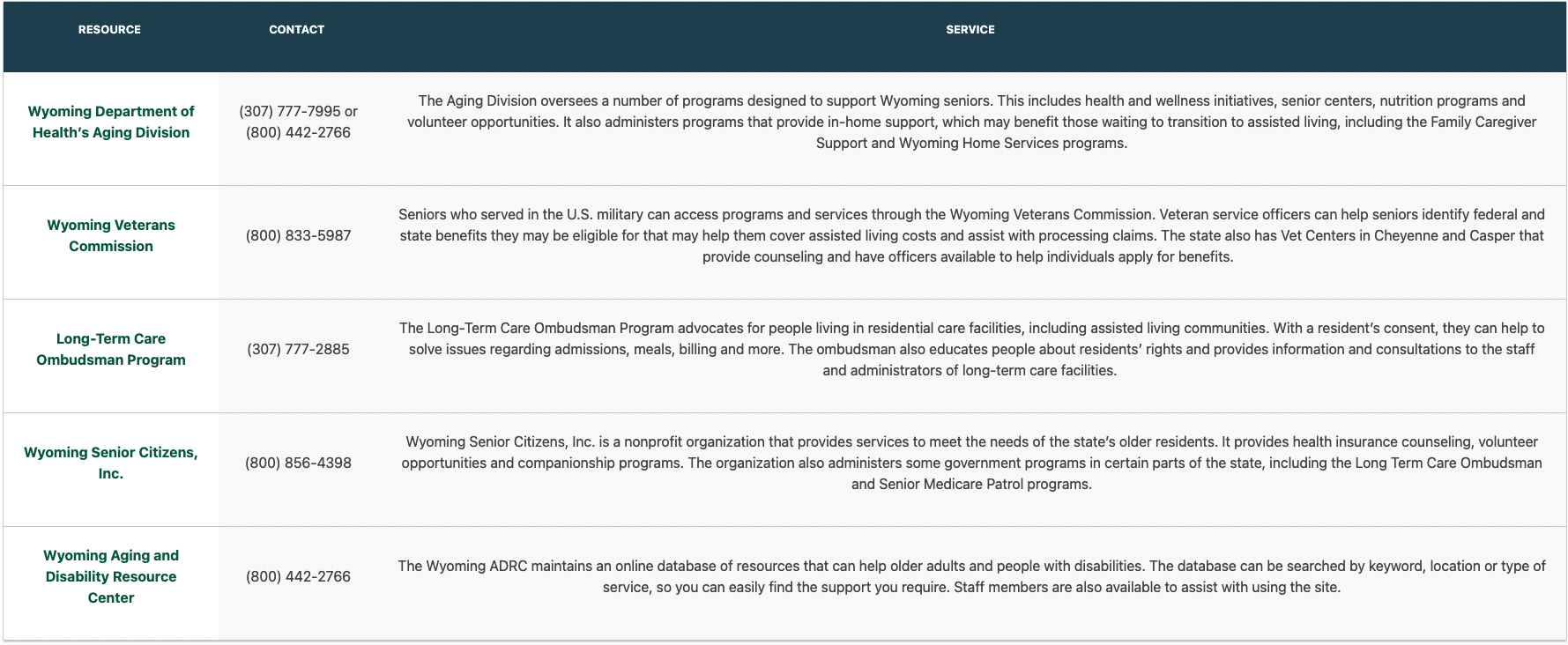 COVID-19 Rules for Assisted Living in Wyoming
The following information is based on research done on several government websites, including health.wyo.gov and cdc.gov. These rules apply to nursing homes and other types of senior living facilities. We've most recently updated this data on 3/26/2022, but since COVID-19 is a rapidly evolving pandemic, contact your local senior living facility or Area Agency on Aging for more specific and up-to-date information.
Visitation Policies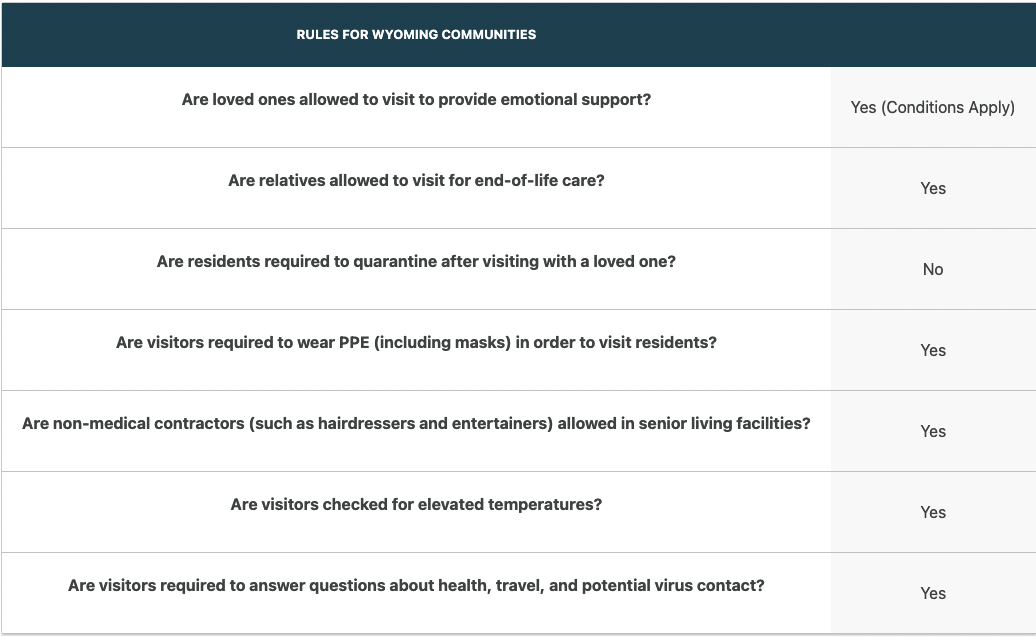 Outings & Social Activities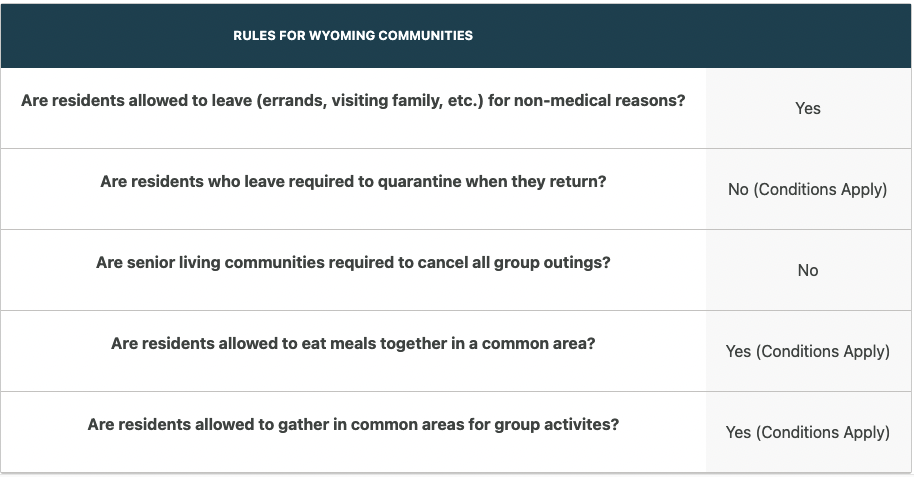 COVID-19 Safety Measures for Staff and Residents

Assisted Living Laws and Regulations in Wyoming
Healthcare Licensing and Surveys, a division of the Wyoming Department of Health, licenses and conducts inspections of assisted living facilities in the state. Facilities must comply with the state regulations regarding, staffing and buildings to ensure a high standard of care is provided to residents.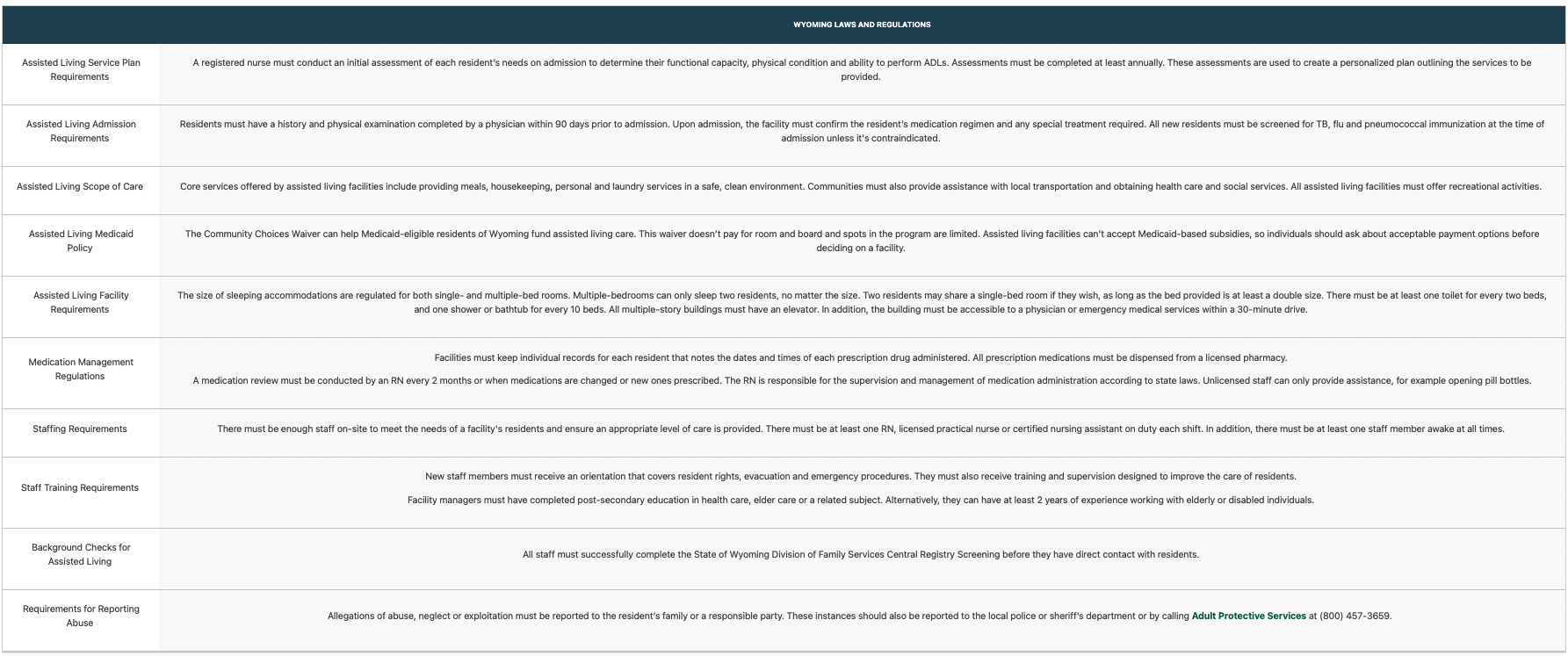 American West Realty & Management, LLC